Ah! How time flies....and now a new year is here! Well I have a ton of updates and things to come so let me give you all a recap of what has happened since my last journal.

I had a comic panel in Salinas, CA. During the Salinas Comic-con! It was a load of fun to have a table there where I talked to new readers and introduced In The Dark to a bunch of teen, kids and adults. I was basically at my table all day but then in the afternoon I had a talk and slideshow presentation which was very cool. I screened my animations and told them about my future projects and whats on the way with Issue 3 of In The Dark. :D  I even had a small 6yr old kid come up and want to draw Skitzo the bear!! hahaha dang, how could i say no?? So they basically copied a doodle I was working on...you can see how that turned out! I'm training the little psychos early!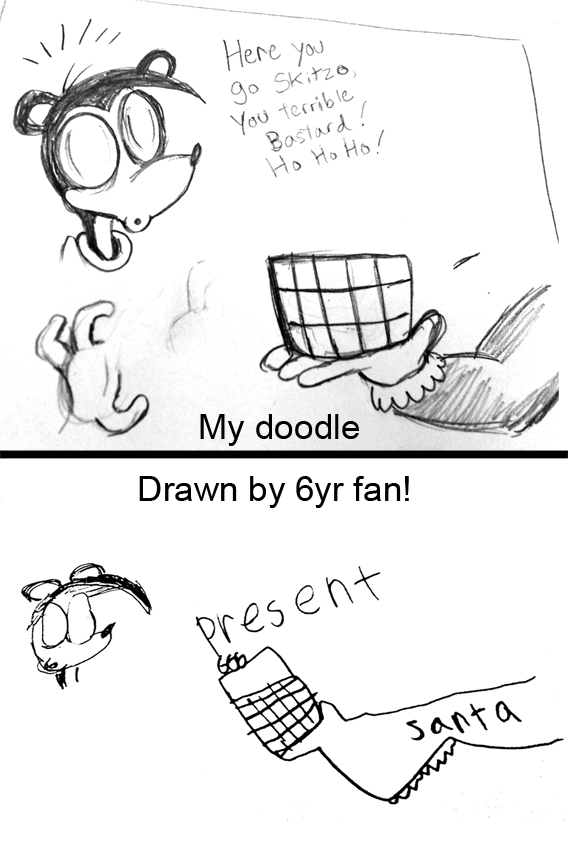 In other news I had a wonderful Xmas with my family. Got to eat a ton of homemade foods, laugh and hang out with my sibling and cousins and then open some cool gifts and just enjoy the holiday full tilt. And I saw the star wars movie on IMAX too so that was a pleasant bonus. The dark side is baaaackkk.

The only delay in all this holiday cheer was that I had very little time to draw or do any art :I but that's all about to end and I have a load of back log art to post soon! The first things on the list are 2 new pages of Issue 3 for Patreon, a Skitzo xmas comic, a bunch of watercolor doodles and some crazy dino pics I did at an art draw. The long awaited fibble and sin pencil comic, a new Skitzo cartoon and some other goodies I have in store. 

So onwards to 2016! I have to say 2015 was a big year for me, as it marked the launch of my Patreon page, a bunch of animations I did for issue 3, and the BIGGEST success was funding the kickstarter and the production of the Skitzo the Bear plush toys *due to arrive any time now! (eta-Feb or March)* Its been a crazy year and lots of adventures but for the most part it was a fun ride and hopefully the next year is even BETTER! A huge thanks to my fans, friends and family for always giving me positive feedback and motivations. I wouldn't be where I am if not for your support! <3 My new years resolution this year is to finish Issue 3 and have it printed by the end of 2016!